Bank of England raises interest rates to 5.25%
The Bank has hiked rates from 5% to 5.25%, marking the 14th increase in a row. We explain what it means for savers and homeowners - and whether more rate rises are on the horizon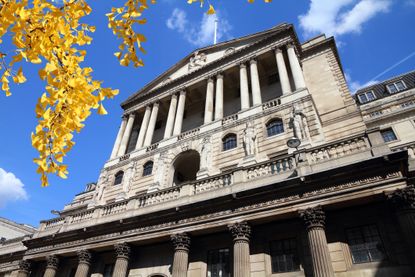 (Image credit: Getty images)
The Bank of England has raised its base rate from 5% to 5.25% - its 14th consecutive hike as it continues to grapple with stubborn inflation.
Most economists had predicted the Monetary Policy Committee (MPC) would increase rates to 5.25%. It follows a much bigger jump in June, when rates went up from 4.5% to 5%.
While inflation fell by much more than expected in June and at 7.9% is at its lowest level in over a year, it remains nearly four times higher than the Bank's 2% target.
Subscribe to MoneyWeek
Subscribe to MoneyWeek today and get your first six magazine issues absolutely FREE
Get 6 issues free
Sign up to Money Morning
Don't miss the latest investment and personal finances news, market analysis, plus money-saving tips with our free twice-daily newsletter
Don't miss the latest investment and personal finances news, market analysis, plus money-saving tips with our free twice-daily newsletter
The MPC voted by a majority of 6–3 to increase the base rate by 0.25 percentage points. Two members preferred to increase the rate by 0.5 percentage points, to 5.5%, while one member voted to maintain Bank rate at 5%.
The last time interest rates stood at 5.25% was in April 2008.
The notes of the MPC meeting referred to the inflationary outlook. It said: "CPI inflation remains well above the 2% target. It is expected to fall significantly further, to around 5% by the end of the year, accounted for by lower energy, and to a lesser degree, food and core goods price inflation. Services price inflation, however, is projected to remain elevated at close to its current rate in the near term."
The increase in interest rates will bring further misery to first-time buyers, homeowners on tracker mortgages and those about to remortgage, but it could benefit savers.
Mortgage rates have been surging in recent months as banks and building societies hike rates to reflect the rising base rate, and the fact inflation remains sticky, which could push the base rate up again.
The average two-year residential mortgage rate is currently 6.85%, according to the analyst Moneyfacts, its highest level since August 2008. The average five-year fix is 6.36%..
What is the outlook for interest rates?
Economists are expecting one or two more rate rises from the Bank. EY Item Club and Capital Economics both predict that interest rates will peak at 5.5%, while others think they could reach 5.75%.
Victoria Scholar, head of investment at the investment platform Interactive Investor, says: "In June, markets were anticipating the Bank rate would peak above 6% in February 2024. However, considering recent data [such as inflation dropping from 8.7% to 7.9%], economists are now looking at a terminal rate of around 5.75%."
The consensus is that rates won't start to fall until next year, and probably the second half of 2024.
Paul Dales, chief UK economist at Capital Economics, comments: "We think Bank rate will be cut faster and further than market pricing from the back end of 2024 and in 2025."
There are three more interest rate announcements to come this year: 21 September, 2 November and 14 December.
What does the rate rise mean for homeowners?
Another rise in interest rates spells bad news for those with mortgages. Customers with variable or tracker mortgages, or people looking to secure a new fixed-rate deal, will find it costs more to borrow the money for their homes.
Customers on a typical tracker mortgage will pay about £24 more a month, due to today's 0.25 percentage point increase, while those on standard variable rate (SVR) mortgages face a £15 jump on average.
Most mortgage holders are on fixed-rate deals, which means they won't be affected by the base rate rise, but millions of deals will end this year and next year, which could trigger a large hike in payments when those homeowners come to remortgage.
However, there is a glimmer of hope as experts believe we could be past the mortgage rate peak, or nearing the peak at least. If inflation continues to drop, and base rate edges up only slightly to 5.5% in September, the daily mortgage rate rises could be a thing of the past.
After rising relentlessly from less than 6% in the middle of June, the average two-year fixed-rate mortgage now sits at 6.85%. But some lenders such as Barclays, TSB, HSBC and Nationwide have recently started to cut their rates.
Sarah Coles, head of personal finance at the investment platform Hargreaves Lansdown, notes: "This isn't going to usher in an era of super-low rates, [but] we are expecting average mortgage rates to drop from here."
What does the rate rise mean for savers?
An increase in the Bank rate is usually good news for savers. However, it's unlikely banks and building societies will immediately raise savings rates; instead, they tend to make ad-hoc changes, and often to only certain products rather than their full range.
This means customers will need to actively monitor their savings accounts and be prepared to switch to get the best rate.
There are plenty of easy-access savings accounts paying above 4.5%, while you can get 6% on a one-year fixed account and 7% on the best regular saver account.
Analysis by the credit broker TotallyMoney shows that savings rates should actually be a lot higher though, when compared to the rates on offer 15 years ago when base rate was also 5.25%.
Back in February 2008, the best easy-access account paid 6.5%, while the top one today pays 4.53%.
Alastair Douglas, chief executive of TotallyMoney, comments: "While the recent hikes are supposed to represent good times for savers, many lenders have been slow to pass these on. In fact, the regulator found that the big banks didn't pass through 72% of the rate rises to easy-access accounts.
"Loyalty doesn't pay, and unless you've recently moved your cash to a market-leading savings account, the chances are you're being short-changed. And with inflation still high, having your money in a low-interest account means it's being quickly devalued."
The Bank of England and the Financial Conduct Authority recently urged savings providers to pay better rates, especially on easy-access accounts. A whopping £250 billion is sitting in savings accounts earning zero interest.
For the top rates right now, check out our round-ups of the best cash ISAs, best easy-access accounts, best fixed rates and best regular saver accounts.
Ruth is passionate about helping people feel more confident about their finances. She was previously editor of Times Money Mentor, and prior to that was deputy Money editor at The Sunday Times.
A multi-award winning journalist, Ruth started her career on a pensions magazine at the FT Group, and has also worked at Money Observer and Money Advice Service.
Outside of work, she is a mum to two young children, a magistrate and an NHS volunteer.