Best savings accounts – August 2023
Interest rates have been creeping up - we look at the best savings accounts on the market right now.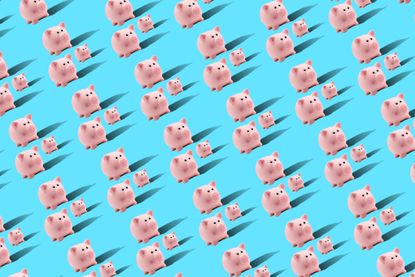 (Image credit: Rosa María Fernández Rz)
Banks have continued to up the rates on their savings accounts as they compete for business, offering some of the best deals savers have seen in years.
The Bank of England has also hiked its base rate to 5% as it continue to fights against sticky inflation, its highest level since 2008. An increase in rates is good news for savers, and although higher rates may take time to filter through, there are still some attractive options for cash savers right now.
Over the last few months, we have seen banks increase the interest rates on their savings accounts, and though they don't beat inflation, they can be a good home for cash savings.
Subscribe to MoneyWeek
Subscribe to MoneyWeek today and get your first six magazine issues absolutely FREE
Get 6 issues free
Sign up to Money Morning
Don't miss the latest investment and personal finances news, market analysis, plus money-saving tips with our free twice-daily newsletter
Don't miss the latest investment and personal finances news, market analysis, plus money-saving tips with our free twice-daily newsletter
If you have cash savings – whether it's your emergency fund or savings for a short-term goal – you can currently earn as much as 5% from an easy access account for up to £1,500 right now and as much as 7% from a regular savings account.
"Savers will need to act quickly to take advantage of the latest deals as some of the top savings' rates have tumbled over the past month," says Rachel Springall, finance expert at Moneyfacts.
"Inflation is predicted to come down to around 2% in 2024, and based on today's top rates savers would be able to make a return on their cash," says Springall.
"It is expected that variable interest rates will continue to improve due to competition and the consecutive base rate rises fuelling the market. Savers who have not checked their existing rate would be wise to do, as not every provider has passed on each single base rate rise."
Below are the best savings accounts available for easy access, 12 and 24 months fixes.
All the banks we have mentioned are protected by the Financial Services Compensation Scheme, which protects up to £85,000 of your money should a bank or financial institution go bust.
This article is updated regularly using data from Defaqto.
This article may contain affiliate links – when you purchase through links on our site, we may earn a commission.
The best easy-access savings accounts
Easy access accounts aren't the top rates, but they come with the freedom of letting you access your cash when you want without losing any interest. So, if you want flexibility, then an easy access account could be for you. These are the best easy-access savings accounts available now.
Swipe to scroll horizontally
*When you sign up via this link, we may earn an affiliate commission from this deal.
Best notice savings accounts
Swipe to scroll horizontally
Best savings for existing customers
Swipe to scroll horizontally
| | | | |
| --- | --- | --- | --- |
| First Direct Regular Saver | 7% (fixed for 12 months) | £25 | Open the account online. If you're not already a First Direct current account holder you can get a £175 switching bonus. Maximum deposit is £300 per month. |
| Lloyds Bank Club Monthly Saver | 6.25% | £10 | Open online or in branch. You must be a Lloyds current account holder and a Club Lloyds customer. Maximum deposit is £400 per month |
| Natwest Digital Regular Saver | 6.17% | £1 | Open online or in branch. You must have a Natwest current account. Maximum deposit is £150 per month |
| Barclays Rainy Day Saver | 5.12% | £1 | The 5.12% rate is available on balances up to £5,000. After that it falls to 0.15%. Open online or in branch, available only to Barclays Blue Reward Members. |
| HSBC Regular Saver | 5% | £25 | You can open the account online and must have a HSBC current account |
| Santander Edge Saver Exclusive | 4% | £1 | Open online. Available to Santander Edge current account customers. |
The best one-year fixed accounts
If you're happy to lock a chunk of your savings away for a year, it might be worth considering a one-year fixed rate account.
Just note that if you take money out before the 12-month period ends, you will lose the interest deal. Here are the best deals available for 12-month fixed accounts.
Swipe to scroll horizontally
The best two-year fixed-term savings accounts
If you are happy to fix for two years, the interest rates are marginally better. But just as with one-year fixed accounts, you can't access the cash until the fixed period ends.
This also means if better rates appear within that time frame, you will be locked in at a lower rate.
But, since there is no guarantee that will happen, you might decide it's better to start earning something on short-term savings immediately.
Swipe to scroll horizontally
What are the different types of savings accounts?
When putting your cash away you will usually have the option of different types of saving accounts – ranging from easy access accounts to one, two or three-year fixes.
Easy access accounts allow you to take your money out as and when you please.
Fixed-rate accounts come with restrictions and also mean you cannot access your cash until the account reaches maturity.
You usually earn more interest if you are willing to lock your cash away for a fixed period but keep in mind that this also takes away the flexibility should you need the cash suddenly.
Although two or three-year fixed accounts, sometimes described as fixed-rate bonds, can earn you more interest, it is worth noting that the rates currently on offer do not beat inflation, meaning the value of your cash is still eroding. So if you can lock your money away for the long term (five years or more) then your cash could potentially earn more on the stock market.
Looking to switch current accounts? Take a look at our guide in the best current account switching offer, where right now you can earn as much as £200 for moving bank accounts.
This article is updated regularly to bring you the latest on the best savings accounts rates. Sign up to our newsletter to stay up-to-date-on the latest deals for cash savings.
Nic studied for a BA in journalism at Cardiff University, and has an MA in magazine journalism from City University. She joined MoneyWeek in 2019.