How to check for Premium Bonds
Have you misplaced a savings product from NS&I? Here's how to check for Premium Bonds and cash in any unclaimed prizes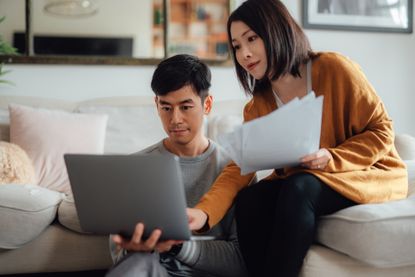 (Image credit: Getty Images)
National Savings and Investment's Premium Bonds are one of the country's most popular savings products, but how do you check for Premium Bonds that may have been forgotten about, and how do you go about retrieving any unclaimed prizes?
How to check for Premium Bonds
Premium Bonds will always be valid until they are cashed in, so even if you think you may have some from decades ago, it is well worth trying to track them down.
Visit nsandi.com/forms and look for the 'Form to track down lost savings'. You can complete this form online or download and print a copy to complete by hand.
Subscribe to MoneyWeek
Subscribe to MoneyWeek today and get your first six magazine issues absolutely FREE
Get 6 issues free
Sign up to Money Morning
Don't miss the latest investment and personal finances news, market analysis, plus money-saving tips with our free twice-daily newsletter
Don't miss the latest investment and personal finances news, market analysis, plus money-saving tips with our free twice-daily newsletter
If doing the latter, send your completed form to: Tracing service, NS&I, Sunderland SR43 2SB
You can also use mylostaccount.org.uk. This is a free service from UK Finance and the Building Societies Association that helps you track down lost accounts or savings. It's not only for NS&I products, so it may be worth a visit if you have other lost accounts.
If you're trying to track down Premium Bonds on behalf of someone else, then make sure you are legally entitled to act on their behalf, for example under a Power of Attorney or as an Executor. NS&I say to call them for advice on how to trace someone else's accounts or investments.
If you need more help or guidance, NS&I has a helpful list of contacts who may be able to steer you in the right direction.
How to check for Premium Bond prizes
There are a number of ways to check for prizes - both ones you know about and those you don't.
The easiest way is through the nsandi.com prize checker or the official prize checker app, available on either Android or iOS. Both of these methods will show you the prizes on offer that month, any winnings you may have had over the past six draws as well as any unclaimed prizes.
You will need your Premium Bonds holder's number to use the website and your NS&I number or holder's number to check via the prize checker app - it has either 9 or 10 digits, or 8 digits followed by a letter.
If you don't have your Premium Bonds number to hand, do not worry. Through the app you can use your NS&I number - it is 11 digits long and starts with an 11, 21, 31 or 41
You can also use your Alexa-enabled device to check if you've won, so long as you have a supported device and have successfully set it up. Once given the command, Alexa will be able to tell you whether you have won a prize and how much it's worth, as well as details for any upcoming draws.
It can also tell you if you have any prizes yet to be redeemed - there is currently a £25 prize from July 1968 which remains unclaimed. Maybe it is yours!
To get it set up, you'll need to activate the NS&I Premium Bonds prize checker skill on your Alexa app and enter your NS&I number. After that, you will be able to use your smart speaker to stay updated on all things Premium Bonds.
How to check for unclaimed prizes
It's well worth checking to see if you have any unclaimed prizes, particularly if you haven't been keeping on top of prize draws recently. Beyond using the website, app or Alexa to check for prizes, NS&I have a few ways of finding out whether you have any cash waiting to be claimed.
If you're registered for online or phone services, you can call NS&I for free on 08085 007 007.
If you aren't registered, you can write to NS&I and ask if you have any unclaimed prizes. To help them track any potential prizes down for you, your letter must include:
Premium Bonds holder's number
Your current name
Any previous names
Your current address
Any previous addresses where Bonds may have been registered
Your signature
Send your letter to: NS&I, Sunderland SR43 2SB.
Any prizes will then be sent to your home address - they cannot be sent directly to your bank account.
Tom is a journalist and writer with an interest in sustainability, economic policy and pensions, looking into how personal finances can be used to make a positive impact.

He graduated from Goldsmiths, University of London, with a BA in journalism before moving to a financial content agency.
His work has appeared in titles Investment Week and Money Marketing, as well as social media copy for Reuters and Bloomberg in addition to corporate content for financial giants including Mercer, State Street Global Advisors and the PLSA. He has also written for the Financial Times Group.
When not working out of the Future's Cardiff office, Tom can be found exploring the hills and coasts of South Wales but is sometimes east of the border supporting Bristol Rovers.