Premium Bond alternatives to turn savings into winnings
Still waiting on Agent Million to knock on your door? Consider these Premium Bond alternatives for your portfolio.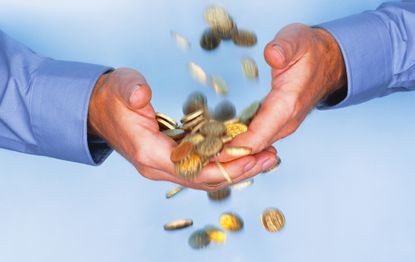 (Image credit: Getty Images)
National Savings & Investments (NS&I) is one of the most well-known financial institutions, but did you know there are a number of Premium Bond alternatives?
Savers who are keeping some of their money in Premium Bonds have seen their chances of landing a big prize improved of late - the Premium Bonds prize fund rate was upped to 3.7% this month, the highest in 15 years.
The best savings accounts have also been upping rates across the board on the back of a rising base interest rate, but the allure of potentially becoming a millionaire has kept Premium Bonds as a staple of many savers' portfolios.
Subscribe to MoneyWeek
Subscribe to MoneyWeek today and get your first six magazine issues absolutely FREE
Get 6 issues free
Sign up to Money Morning
Don't miss the latest investment and personal finances news, market analysis, plus money-saving tips with our free twice-daily newsletter
Don't miss the latest investment and personal finances news, market analysis, plus money-saving tips with our free twice-daily newsletter
Each bond held in Premium Bonds is entered into a monthly draw, with almost five million prizes available, but Premium Bonds are not the only product on offer if you're hoping to win a prize from your savings pot.
Here's what you need to know about Premium Bond alternatives.
NS&I Premium Bond alternatives
NS&I Premium Bonds
Let's first look at the kingpin of prize draw-based savings - NS&I's Premium Bonds. The government-backed institution protects every penny you save with them - a hugely attractive perk in times of financial difficulty. So much so, that investors turned to NS&I on the back of the collapse of Silicon Valley Bank, amid broader worries at the state of other major banks.
Beyond protecting your money, NS&I's main pull are Premium Bonds. They are the nation's most popular savings account, with millions of us holding at least some money in them.
The prizes vary in size from £50 to a cool £1 million, and in the July 2023 prize draw, a total of 5,061,349 prizes worth £374,539,700 will be paid out.
The big downside to Premium Bonds is that you won't earn any interest on the money you have saved. NS&I publishes a 'prize rate', which is supposed to give an indication of the sort of return you'll get from the money kept in bonds if you have average luck.
That prize rate has been increased repeatedly over the last few months to its current level of 3.7%, but it is set to be upped to 4% in August.
The problem is that your return entirely comes down to how lucky you are. If you are particularly fortunate, then you might win a couple of prizes and find that your effective return is much higher than the prize rate.
However, it's equally true that you could go years without ever winning a prize, meaning you don't get any return at all from the money kept in Premium Bonds.
Natwest Roundups
The latest Premium Bonds alternative comes from NatWest Round Ups. When you spend with your debit card, the purchase is rounded up to the nearest pound, with the change then deposited into a savings account.
The idea is to get you saving without really noticing, and by using the feature you are entered into a prize draw.
Entry to the prize draw closes on 21st April, and there are 33 prizes on offer ‒ three big winners will bag £10,000 each, while 30 runners-up will get £500 a person.
The obvious catch to this scheme is that in order to enter you need to have a NatWest current account, though that idea is more attractive at the moment since it has launched a £200 switching bonus offer too.
Halifax Savers Prize Draw
Another Premium Bonds alternative comes from Halifax, in the form of its Halifax Savers Prize Draw.
Qualifying savers are entered into a monthly draw, with 1,603 walking away with a cash prize.
The top three winners bag £100,000 each, while there are then 100 prizes of £1,000 and 1,500 prizes of £100.
To qualify, you will need to hold £5,000 or more in qualifying accounts for a whole calendar month. These include all Halifax savings and ISA deals, excluding accounts for children, as well as most Bank of Scotland branded savings accounts.
The £5,000 can be made up of money in different accounts, rather than all in a single savings account. You will then need to register for entry into the draw, which you can do through the Halifax app or mobile banking service.
If you win, your prize will be paid directly into your Halifax savings account.
The added selling point to the Halifax Savers Prize Draw is that any prize you win is a bonus on top of the interest you're already earning on your cash through your savings account.
Even if your luck deserts you and you never win a prize, you will at least still have the interest paid on your account.
Of course, the draw isn't a good reason on its own to save with Halifax. It should be viewed as an added perk, should Halifax's accounts already offer the sort of return you're looking for, rather than the reason to open a Halifax account.
It could be a great option for you if you're keen on having some form of guaranteed return but are still incentivised by the idea of winning big. Remember, you don't get any form of guaranteed interest with NS&I's Premium Bonds.
Chip Prize Savings Account
Chip is an app that allows you to invest and save money automatically, selecting the right assets and accounts for you. The idea is that this saves you time, so you don't have to go to the effort of researching the market yourself.
It now offers a Prize Savings Account, with every £10 you deposit into your account worth one entry into the prize draw, so long as you have at least £100 deposited by the end of the month.
One saver each month will win the £10,000 top prize, while there are also 50 prizes worth £100, 500 prizes of £50 and £750 prizes of £10 dished out.
The prize is then added to your account if you win. As with NS&I's Premium Bonds, there's no guaranteed return, so
Nationwide Start To Save
As the name suggests, Nationwide Building Society's Start to Save account is aimed at people looking to get started by putting some money aside each month.
Not only do you earn interest on the money you save, but you are also entered into a prize draw that takes place quarterly.
To qualify, you will need to pay between £25 and £50 into the account in each of the six calendar months leading up to the prize draw. Winners will then bag a £250 cash prize.
The number of winners will vary based on how many savers qualify for the draw. Nationwide explains that the prize fund for each draw is equal to 2.5% of the total increase in balances of all of the qualifying accounts for that draw.
As a result, depending on how big the prize fund is, your chances of winning range from one in 34 to one in 67.
The prize draws will be held on 22nd August 2023 and 20th February 2024 - so plenty of time to get up and running with the account.
Credit Union PrizeSaver
The PrizeSaver draw is managed by the Association of British Credit Union and is open to people saving in PrizeSaver accounts with their local credit union.
Savers are entered into a monthly draw, which takes place on the 15th of each month. Every £1 held in a PrizeSaver account gets one entry into the monthly prize draw, capped at up to £200.
One winner will get the top prize of £5,000, while there are also 20 additional prizes of up to £50 handed out.
There are currently 17 participating credit unions, with more than 20,000 active PrizeSaver accounts.
Tom is a journalist and writer with an interest in sustainability, economic policy and pensions, looking into how personal finances can be used to make a positive impact.

He graduated from Goldsmiths, University of London, with a BA in journalism before moving to a financial content agency.
His work has appeared in titles Investment Week and Money Marketing, as well as social media copy for Reuters and Bloomberg in addition to corporate content for financial giants including Mercer, State Street Global Advisors and the PLSA. He has also written for the Financial Times Group.
When not working out of the Future's Cardiff office, Tom can be found exploring the hills and coasts of South Wales but is sometimes east of the border supporting Bristol Rovers.