Women lead the way with ethical investments
Demand for more ethical investments has soared – and women are more likely to opt for them. Annabelle Williams, personal finance specialist at Nutmeg, takes a look at why.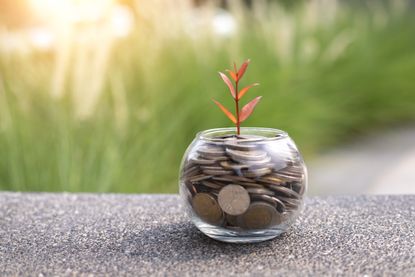 (Image credit: Getty images)
Demand for ethical investments, most notably ethical investment funds, has jumped over the past few years, and there are signs women are behind this growth.
Investing has long been a male-dominated pursuit. Most professional investors are male – some 93% of fund managers, for example, are male. 5.5% of all UK-based funds are run by men called Dave, while women are at the helm of 7.7% of funds.[1] Meanwhile, the majority of stocks and shares ISAs are held by men, even though women have opened more cash ISAs.
Despite this, there's one area of investment where women are tipping the balance. It's socially responsible investing (SRI), an umbrella term covering 'green', 'ethical', 'sustainable' and 'impact' investing, which simply means backing assets that could perform well financially while also taking people and the planet into consideration.
Subscribe to MoneyWeek
Subscribe to MoneyWeek today and get your first six magazine issues absolutely FREE
Get 6 issues free
Sign up to Money Morning
Don't miss the latest investment and personal finances news, market analysis, plus money-saving tips with our free twice-daily newsletter
Don't miss the latest investment and personal finances news, market analysis, plus money-saving tips with our free twice-daily newsletter
Women favour ethical investments
There's growing evidence to suggest that when they do invest, women are more likely to favour SRI strategies. Nutmeg, the digital wealth manager with £4.5bn in assets under management, says women make up 51% of the investors in its SRI portfolios, even though they are only 47% of its overall client base.
UK-wide 45% of women with investments expect the money to be invested sustainably compared to 34% of men, according to Boring Money[i].[2]
There's no clear reason why, although studies - including one from the International Monetary Fund - have found female economists, who have studied and worked in the male-dominated economics profession, have different priorities[3].
They are more likely to favour environmental regulation, for example, than male economists. Perhaps the skew towards female investors in SRI funds is another reflection of a different perspective on the financial world.
This preference is likely to have served women well, since SRI funds have generally performed better than their mainstream peers since 2010.4 That seems counter-intuitive, as logically, an exclusionary approach to investing that rules out assets for reasons other than their financial potential could mean compromising on investment returns.
What it reveals is how taking heed of society's concerns about corporate ethics has become a driver of business performance, rather than a hindrance. Globally, companies that score highly overall on SRI metrics – which look at issues including executive pay, workers' rights, supply chains, and environmental impact – do better.[5]
Women have a growing influence
This gender slant among SRI investors is interesting because women have decision-making power over a fraction of the world's wealth – around 30% globally – but their share is rapidly increasing.
In the UK women are expected to own 60% of the wealth by 2025 and in the US the figure is 66% of wealth by 2030.6 If this preference for SRI among female investors continues over coming decades, with more wealth in female hands, the implications for investing and businesses will be profound.
Socially responsible investing has benefitted from a snowball effect. Investors have realised the benefits and are channelling more money into ethical investments, which has in turn encouraged companies to focus more on SRI issues.
Coupled with climate change and public concern over issues like excessive CEO pay and boardroom diversity, the amount invested in SRI has ballooned to an estimated €668bn (£580bn)[7]. To put that figure into context, it's equivalent to the entire budget for the National Health Service over three and a half years.[8]
Women tend to buy and hold
The other area where gender and investing behaviour collide, which could be especially important for sustainability, is women's tendency to buy and hold investments.
Numerous studies have found female investors outperform male investors not because of some special skill or insight into the best assets, but because behaviourally, men are more prone to buying and selling shares in a shorter timeframe. Women tend to buy and hold shares for longer periods, which reduces trading costs and the likelihood of missing out on a period of good performance.
Sustainability is by its very nature a long-term issue, and many of the areas socially responsible investors hope businesses will address can take time to resolve.
With women as the small majority of investors in SRI, there's good reason to hope they will stick around for long enough for real change to happen – and achieve good returns too.
Risk warning: As with all investing, your capital is at risk. The value of your portfolio with Nutmeg can go down as well as up and you may get back less than you invest. Past performance is not a reliable indicator of future performance.
Annabelle Williams is a personal finance specialist at Nutmeg and the author of Why Women Are Poorer Than Men and What We Can Do About It.