BoE: Mortgage payments to rise by £220 a month for households
Millions of households can expect a mortgage spike of around £200 a month - and some may even reach a extra £1,000 a month, the Bank of England warns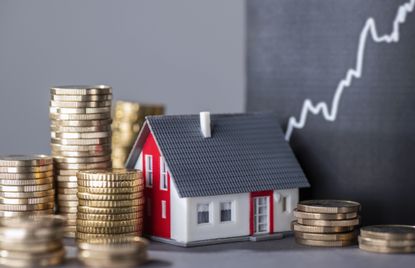 (Image credit: Getty images)
Millions of mortgage borrowers could see their monthly repayments rise by around £220 by the end of this year with smaller numbers facing paying up to £1,000 more, according to Bank of England (BoE).
But the central bank is not worried about higher debt to income ratios, estimating in its latest Financial Stability Report that the figures will remain below the levels seen in the 2008 financial crisis.
It is less positive news for renters though as the report warns that higher buy-to-let mortgage rates may be passed onto tenants.
Subscribe to MoneyWeek
Subscribe to MoneyWeek today and get your first six magazine issues absolutely FREE
Get 6 issues free
Sign up to Money Morning
Don't miss the latest investment and personal finances news, market analysis, plus money-saving tips with our free twice-daily newsletter
Don't miss the latest investment and personal finances news, market analysis, plus money-saving tips with our free twice-daily newsletter
The report comes as the latest stress tests from the BoE suggest lenders can withstand a severe macroeconomic scenario.
The BoE assessed how banks would cope with unemployment rising to 8.5% and if house prices dropped by 30%.
Banks were found to be resilient, with 87% of their stock of owner occupier mortgages below 75% loan-to-value, providing a buffer against significant house price falls
That isn't going to make things any easier for mortgage borrowers and renters though.
Mortgage pressure - how much will you pay?
The cost of borrowing has been on the rise since December 2021, pushing up mortgage repayments and putting pressure on household budgets.
The BoE hiked interest rates to 5% in June as it aims to tackle high inflation and some analysts are predicting rates could peak at 6.25% by the end of this year.
That could put more upward pressure on mortgage pricing, which already hit a new 15-year high this week of 6.7% for a two-year fix, according to Moneyfacts.
The BoE July Financial Stability Report estimates around half of mortgage accounts or 4.5m have seen increases to repayments since late 2021.
The vast majority of borrowers- another 4 million - will be affected by the end of 2026, according to the report.
A typical mortgage borrower coming off a fixed-rate deal during the second half of this year will see their repayments rise by around £220 per month if their mortgage rate rises by the 325 basis points.
The figures are more stark when broken down further though, with more than two million set to pay between £200 and £499 extra per month by the end of 2026 and a further one million set to see at least an extra £500 in costs.
Hundreds of thousands could also end up paying around £1,000 extra per month.
Can homeowners afford higher mortgage rates?
Rising rates mean mortgage borrowers will be paying more debt compared with their income, unless everyone suddenly gets massive pay rises.
The BoE says the proportion of post-tax income spent on mortgage payments, known as the debt-servicing ratio, is projected to increase from 6.2% to around 8% by mid-2026.
This would remain below the peaks seen in both the 2008 global financial crisis and the early 1990s recession.
The BoE also highlights that the aggregate UK household debt to income ratio is now materially lower, at 118% as of the first quarter of 2023, than during the 2008 financial crisis when it reached around 150%.
Another way of measuring household debt vulnerabilities is by looking at how much of their income, after tax and essential spending, individual households need to spend on mortgage or consumer credit debt repayments.
This is known as the cost of living adjusted debt servicing ratio (COLA-DSR).
The BoE highlights that those with a COLA-DSR of more than 70%, are more likely to face difficulties in meeting their debt repayments.
Rising mortgage costs have already led to an increase in the proportion of these types of households, from 1.6% in the third quarter of 2022 to 2% in the first three months of this year and is expected to rise to around 2.3% or 650,000 households by the end of 2023, according to the report.
The report suggests the ratio should stay below the recent peak reached in 2007 of 3.4%, or around 870,000 households.
It said: "To reach that peak level by the end of 2024, it would require mortgage rates to be around three percentage points higher relative to current expectations."
Tougher times for renters
The BoE's financial stability report warns that higher interest rates could affect the interest coverage ratio (ICR) – typically 125% - on buy-to-let loans, meaning the rental income may not cover a landlord's mortgage repayments.
The average increase in monthly repayments on buy-to-let mortgages by the end of 2025 is projected to be around £275, the BoE said.
If landlords were to entirely absorb higher mortgage costs without passing any of them on to renters, the share of buy-to-let mortgages with ICRs below 125% would increase significantly from around 3% at the end of 2022 to just over 40% by the end of 2025.
This leaves the option of selling-up, which the BoE suggests could push house prices down if there were large enough volumes, or raising rents to offset these higher costs.
That is bad news for renters, especially as these households have lower incomes than homeowners relative to housing costs and are likely to have low savings, the BoE said.
Marc Shoffman is an award-winning freelance journalist specialising in business, personal finance and property. His work has appeared in print and online publications ranging from FT Business to The Times, Mail on Sunday and The i newspaper. He also co-presents the In For A Penny financial planning podcast.